Büşra Söylemez, Project Officer for EDUSIMSTEAM
Examples of STEAM Integrated Curriculum throughout the World
In a traditional school education, each course related to a certain subject area has a specific curriculum independent from another course and the knowledge gained in different courses resemble boulders of knowledge abstracted and disconnected from one another. However, in order to raise individuals and leaders equipped with the 21st century skills, modern societies need education practices through which students can make connections among the different disciplines, analyze and synthesize information, create a product based on theory, in sum, they can see the whole picture. Therefore, the curriculums should also be structured and updated in accordance with those needs. One way of making this education possible is to integrate STEAM education into the curriculum. The STEAM pyramid in Figure 1 shows the relationships among the contents, disciplines, integrative STEAM and lifelong skills: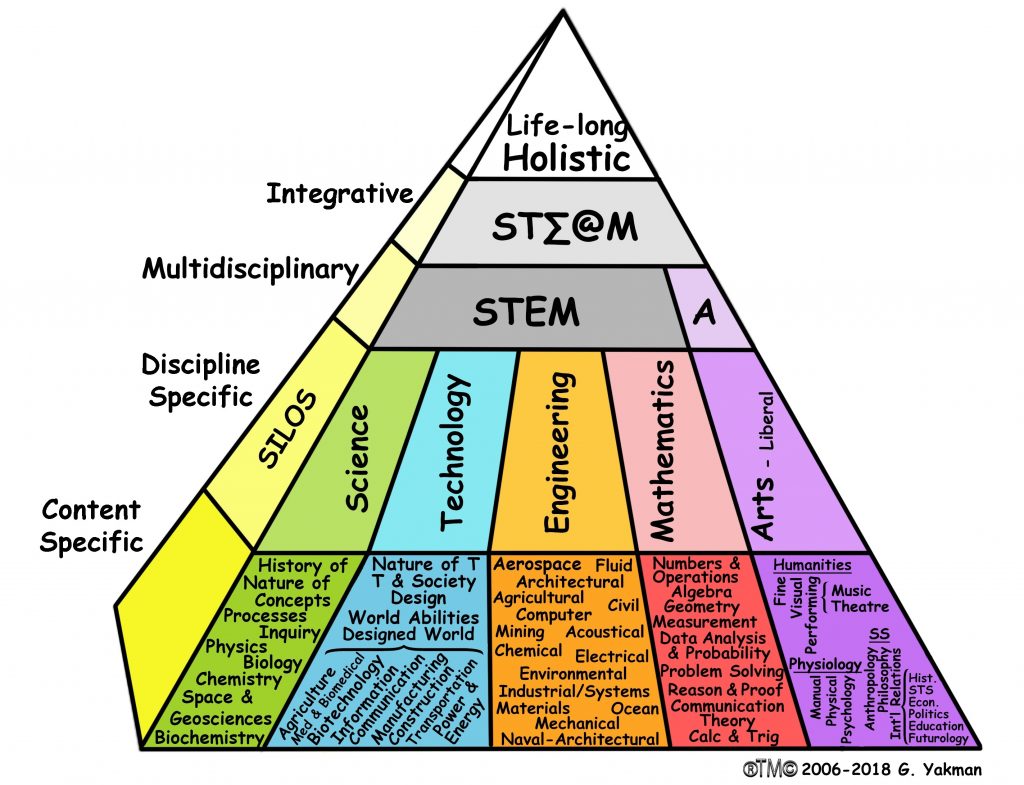 A STEAM integrated curriculum enables not one discipline being complementary to the other disciplines; instead each of them have an equal value and share in the program for students to learn a phenomenon, a concept or a case (Tenaglia, 2017). Thus, the same phenomenon is examined holistically from the perspectives of multiple different disciplines. The research has indicated that an interdisciplinary curriculum integrated with various STEM practices provides students with a relevant, comprehensive and more engaging learning experience in the classroom (Bybee, Powell, & Ellis, 1991; Furner & Kumar, 2007; LaPorte & Sanders, 1993; Loepp, 1999; Satchwell & Loepp, 2002; as cited in Daugherty, Carter & Swagerty, 2014). Additionally, according to the research on STEAM integrated curriculum by Yakman and Lee (2012), students comprehend one-course-specific knowledge more deeply when they make connections to other courses; which is in turn applicable in the real world.
STEAM education is integrated into the curriculum at many countries in the world. Moreover, a research study carried out by MoNE DGIET on the views of teachers about STE(A)M practices has revealed that a great majority of participant teachers (95,54%) think that STE(A)M practices should be integrated into the curriculums in Turkey as well (MEB, 2016).
The curriculum example in the table is a suggestion that shows how STEAM, especially with the Arts dimension, can be integrated into the curriculum: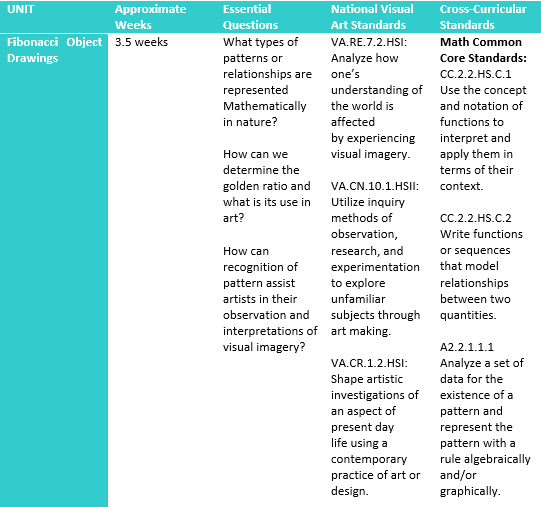 The example above demonstrates how the theme in a given unit is handled with its STEAM dimensions, in line with the curriculum standards (Please click for the detailed information about the unit plans, outcomes, learning activities and assessment suggestions).
Useful Links for STEAM Integrated Curriculum and Lesson Plans
The list below contains lots of curriculum and free lesson plan or tool ideas that teachers may use in their lessons, or get inspiration from in order to develop original contents:
References
Daugherty, M. K., Carter, V., & Swagerty, L. (2014). Elementary STEM Education: The Future for Technology and Engineering Education? Journal of STEM Teacher Education, 49(1), s. 45-55. doi:doi.org/10.30707/JSTE49.1Daugherty
MEB. (2016). STEM Eğitimi Raporu. Ankara: MEB Yenilik ve Eğitim Teknolojileri Genel Müdürlüğü.
Tenaglia, T. (2017). STEAM Curriculum: Arts Education as an Integral Part of Interdisciplinary Learning. Graduate Education Student Scholarship, 11.
Yakman, G. (2008). STEAM Education: an overview of creating a model of integrative education. steamedu.com: Taken from https://steamedu.com/wp-content/uploads/2014/12/2008-PATT-Publication-STEAM.pdf
Yakman, G., & Lee, H. (2012). Exploring the Exemplary STEAM Education in the U.S. as a Practical Educational Framework for Korea. Journal of the Korean Association for Science Education, 32(6), 1072-1086.